Hi everyone,
I was featured on
Fireflies and Jellybeans
today!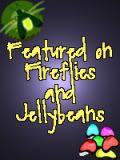 Their site is really awesome, full of great tutorials, I highly recommend checking it out! I think the first tutorials I want to try of theirs are the Felt Food ones :)
Also, a reminder that my 100th post giveaway ends tonight at midnight (12AM EST), for those who have no entered but still want to!